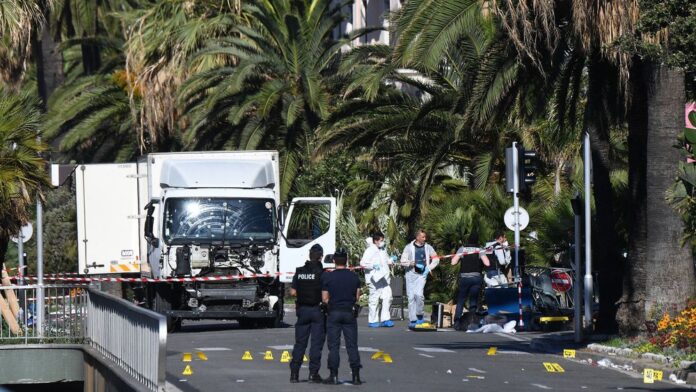 Ramzi Arefa, who will celebrate his 28th birthday in a few days (he was born on November 28, 1994) is one of the three defendants prosecuted for terrorist criminal association. He is the only defendant who faces a sentence of life imprisonment because in a state of legal recidivism after a final sentence of 10 years in prison for aggravated theft in 2014.
Beard and brown hair cut short, the Franco-Tunisian admits without difficulty having provided a weapon to Mohamed Lahouaiej-Bouhlel, the Tunisian author of the massacre which left 86 dead and more than 400 injured on July 14, 2016 on the Promenade des Anglais at the wheel of a ram truck. But he vigorously denies having heard of the intentions of the perpetrator of the attack.
"When I understood what really happened, what the terrorist had done, I was very shocked by the monstrosity of this horrible and atrocious act", he says.
At the material time, "I had just been released from prison", explains the thin young man who, standing in the box, seems to be floating in his light green sweater. Dropping out of school in 4th grade, he embarked, like his older brothers, on the trafficking of cannabis and cocaine. "I did not measure the consequences of my actions. I was driven by easy money," he insists, adding that he sometimes earned up to 500 euros a day. Like his big brothers, he begins going back and forth in prison.
– "A new opportunity" –
His first meeting with Mohamed Lahouaiej-Bouhlel dates from a period of incarceration, in October 2015. The future perpetrator of the attack, delivery driver, delivers drinks to the Nice prison. Ramzi Arefa, then on semi-freedom, speaks with him, imagining that the delivery system could be a way of introducing drugs into prison.
It doesn't work, but in February 2016, when he has just been released from prison, Ramzi Arefa sees the delivery driver again in his neighborhood. "He was not a friend but a client. I spoke to him like a drug addict," he told the court. He sells her cannabis and cocaine. "One day, he asked me for a gun (…) I looked for a contact everywhere around me", supports Ramzi Arefa. "For me, it was a new opportunity to make money."
He contacts Artan Henaj, an Albanian, his cocaine supplier, also known to be an arms trafficker, another accused in the trial which will be heard on Thursday.
"I made the transaction (1,400 euros), I never saw Mohamed Lahouaiej-Bouhlel again and a few days later, I was arrested", summarizes Ramzi Arefa.
In prison since July 2016, the Franco-Tunisian claims to have matured. "Detention allowed me to evolve". It was in prison that he read his first book.
"I am ready to assume my responsibilities but I am not a terrorist," he insists. He would rather receive a harsh sentence for arms trafficking than a lighter sentence for terrorism, he said. "This terrorist label is a shame, the worst thing in the world".
The Fleury-Mérogis Radicality Assessment District (QER) did not detect any sign of radicalism in him. He received no religious education and does not practice.
If he leaves prison, he explains that he wishes to undertake training in marketing and has the ambition to "sell innovative toilets".
"In prison, I had plenty of time to think, to see my mistakes, like easy money. Today, I would have preferred to be under a bridge than where I am. I prefer to struggle, not to go as fast as I wanted to go before and make my mother proud, live honourably", explains the accused to the court before ensuring: "every day, I try to become better". He tries to persuade the court: "I've grown up, I'm not a little jerk anymore".