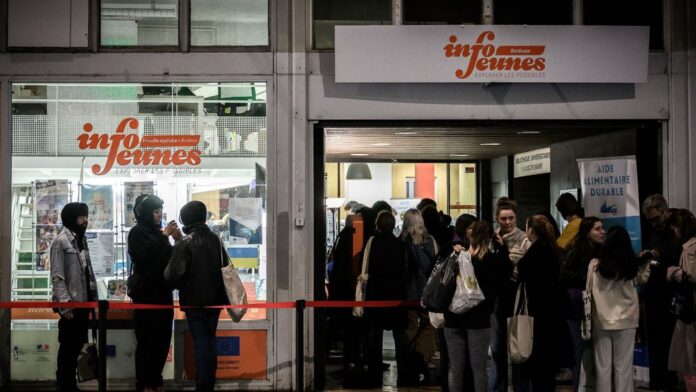 The associations all come to the same conclusion. As prices rise, the number of recipients of food aid swells and poverty deepens.
Since April, the number of beneficiaries of "Restos" – which launched their 38th national campaign on Tuesday – has thus jumped by 12% and their difficulties have increased, since 60% (instead of 50% a year earlier) live in "extreme poverty", that is to say with less than half of the poverty line (551 euros per month).
In food banks, the observed increase in attendance is 9% in the first half of the year, "i.e. about as much in six months as before in two years of Covid", observes network director Laurence Champier bitterly.
In total, 3.2 to 3.5 million people in France have recourse to food aid provided by associations – whether through the distribution of parcels, hot meals or solidarity grocery stores – details a study by Insee. released on Tuesday.
These beneficiaries are among "the poorest of the poor" and are often forced to deprive themselves in order to better feed their children: their average standard of living only reaches 637 euros per month, significantly less than the 877 euros received on average by the All households living below the poverty line, specifies the Institute for Statistical Studies.
Nearly a third (32%) of recipients "report often or sometimes going to bed hungry" and two-thirds of those with children report that adults in their families have to "often or sometimes" reduce their share for the benefit of children.
– "every gesture counts" –
"We are in a situation where precariousness is increasing in our country, in particular food insecurity", added the Minister of Solidarity, who came on Tuesday to support the volunteers of "Restos" in a distribution center in Asnières, near Paris.
Faced with inflation and the increase in rents or energy prices, the most precarious are brought to "arbitrations" in their budget, he underlined.
"We make the choice not to eat meat or fish anymore, then we skip meals", observed the minister, before praising the measures of the tariff shield on energy and announcing an exceptional envelope of 10 million euros. euros for food aid for students in difficulty. An amount which we can however fear that it "is not enough", commented on France Inter the president of Restos du Coeur Patrice Douret.
To meet the growing needs of the most precarious – who sometimes do not even have enough to pay for gas to pick up their food parcels – the associations themselves have to deal with rising costs, which raises fears of a " scissor effect".
However, the Restos du Coeur do not plan to reduce the aid provided to their 1.1 million beneficiaries and therefore appeal more than ever to donations from the French who contribute to three quarters of the needs of the association.
However, "we have many modest donors", underlines Mr. Douret who wonders "until when they will be able to continue to give" in this difficult context.
A concern shared by Laurence Champier, of the Food Banks, who are launching their big "national collection" next weekend with the general public: by donating a packet of pasta or a jar of beans at the exit of their supermarket, individuals can contribute 10% of the annual needs of the associative network, she explains.
"Every gesture counts", summarizes Ms. Champier. "Generosity is a tool for social cohesion, we are going to need it in the face of this looming crisis. We must continue to be united, despite the budgetary difficulties that we are all experiencing".