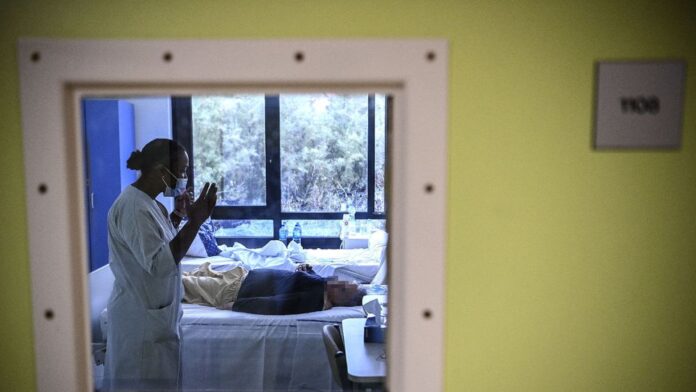 Four organizations are calling for strikes and demonstrations, notably at 11 a.m. in Paris, in front of the Ministry of Health. Rallies are announced in other cities, in front of regional health agencies (ARS) or hospitals.
These unions denounce an "abandonment of public psychiatry" which "is characterized on a daily basis by the glaring lack of full hospital beds and regular closures of medical-psychological centers (CMP)". A situation linked to the shortage of doctors and nurses, which "today affects five out of six hospitals", according to an inter-union press release.
"We no longer have the capacity to treat as we would like," laments Dr. Norbert Skurnik, president of the Intersyndicale de defense de la psychiatrie publique (Idepp). According to this psychiatrist, for lack of reception, "in Île-de-France alone, 60 to 70,000 people, of whom at least 60% are mentally ill, wander outside any institution and any home".
In a context of "hardening" of working conditions, the specialty no longer attracts young doctors, laments Dr. Skurnik, citing the figure of 100 interns to be distributed in the Paris region, "where 150 are needed".
To promote recruitment, this union official defends an increase of "20 to 25%" in the salaries of hospital psychiatrists, in the form of hardship bonuses.
Fourteen months after its presentation, the plan announced by Emmanuel Macron after the assizes of psychiatry, with the creation of 800 positions in the CMP, is considered insufficient by the profession.
"It's only a small step," said Dr. Rachel Bocher, president of the National Intersyndicate of Hospital Exercise Practitioners (INPH).
This psychiatrist also militates in favor of "a plan for the attractiveness of careers". Organizer of a symposium "cities and mental health" from Thursday to Saturday in Nantes, she hopes to welcome the Minister of Health, François Braun. "There is a need for the public authorities to resume social dialogue with psychiatrists," she argues.
Before the Senate in mid-November, the minister had acknowledged that "psychiatric staff work in difficult conditions", and promised that a report would be drawn "very soon" from the meetings organized in September 2021.