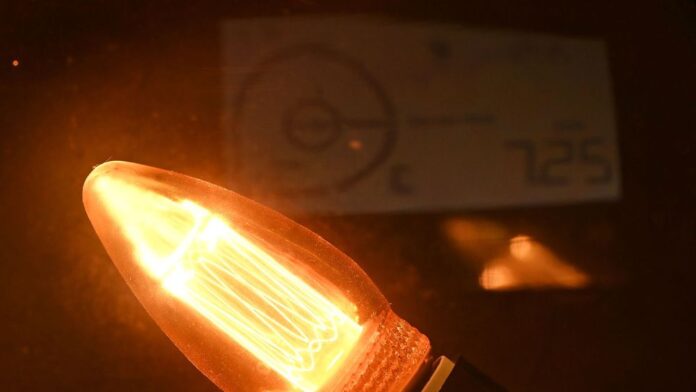 Past the gate and the Breton, French and EU flags, a careful look in the hall reveals that the electronic clocks are not in operation in this modern high school, built in 2005.
"We cut 21 clocks that were running 24 hours a day, 365 days a year for a consumption of 11 watts each day, i.e. a saving of 800 euros per year", explains Guillaume Talon, regional agent supervising the maintenance staff.
In the corridors, the timer has been changed and the lighting now switches off after three minutes, compared to five previously.
With the vertiginous rise in energy costs, each kWh is weighed, with the main objective of having a temperature not exceeding 19°C in the classrooms and 16°C in common areas such as corridors or toilets. .
Also, with the help of software, each radiator is equipped with thermostatic heads which shut off the hot water supply when the temperature reaches the limit threshold.
To help establishments regulate their temperature and reduce gas and electricity bills, technical advisers and Mobile Technical Assistance Teams (EMAT) intervene to provide valuable advice, as does Laurent Descieux.
In the boiler room, since September, "we have played on the different circuits so that the boilers start out of step" whereas previously "they started all at once, making a call for significant consumption", explains this regional agent. in charge of thermal installations in several secondary schools in Rennes.
And everyone, in this establishment which welcomes some 1,100 people a day, tries to bring their stone to the building, as explained by Thierry Glo, head of catering.
"We try to save energy at our level, especially in the morning by not turning on the machines too early as we stupidly did before, or not leaving the lights in the fridges without someone there. inside," he says, also favoring menus that consume less energy, such as baked potatoes rather than fries.
– Scarf in progress –
Between two bells to return to class, high school students say they largely understand these measures.
"It's better for the ecology to have a lower temperature and therefore consume less electricity and energy," said Johanna Moreau, second. "More people put on coats and keep their jackets on when they sit down, I put on an extra sweatshirt".
Louise Chauvel, in first, who is part of the school's forty eco-delegates, keeps the scarf going. "There are some who complain because it's cold but it's accepted by most people because they understand the ecological and economic stakes".
Despite this sum of small savings, the costs should still soar with increases "by three on electricity and a little less on gas", recalls Stéphane Perrin, vice-president in charge of finance for the region. Brittany.
In 2021, the energy bill of the 115 Breton public high schools showed 14.5 million euros, including eight for heating. In 2022, the additional cost is estimated at… 28.5 million (25 million for electricity and 3.5 million for gas).
Depending on the secondary schools, the region and its teams have set themselves the objective of achieving between 15% and 20% energy savings.
Of course, "we have to deal with the urgency and the increase in costs, but we must also keep the capacity to invest, the renovation of high schools is the first investment budget of the community. What matters above all is substantive work" to improve the thermal performance of establishments, assures Mr. Perrin.