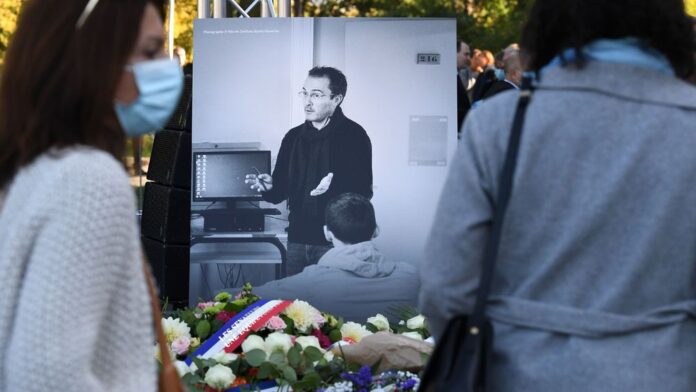 In this final "summary report" of the Sdat (Anti-terrorist sub-directorate) dated June 28, an investigator summarizes the investigations into the assassination of the 47-year-old history and geography professor, stabbed then beheaded near his college in Conflans-Sainte-Honorine (Yvelines) by Abdoullakh Anzorov, a Russian refugee of Chechen origin, killed shortly afterwards by the police.
The 18-year-old, radicalized, accused him of having shown caricatures of Muhammad in class. In an audio message in Russian, Abdoullakh Anzorov had claimed his gesture by congratulating himself for having "avenge the prophet".
He had learned of the controversy targeting the professor a few days earlier via social networks, where videos of Brahim Chnina, the father of a schoolgirl targeted by an exclusion for indiscipline and who claimed to have attended the course, had been broadcast, and of Islamist militant Abdelhakim Sefrioui.
According to the report, Samuel Paty "opened up to at least two colleagues, whom he asked to transport him to college and / or to his home" two days before the facts.
That same October 14, 2020, according to the report, he was researching the internet "about himself and the controversy he was the subject of", according to his browsing history, and also "about the legal definition of a threat to public order".
According to the video surveillance, on the day of the events, Samuel Paty "folded the hood of his coat over his head as soon as he left the establishment, to potentially hide himself", notes the report.
The investigators will find "a hammer" in his backpack "without it being possible to determine the use for which it was intended".
In this case, fourteen people are indicted.
The investigating magistrates recently announced the end of the investigations, and the national anti-terrorist prosecutor's office is due to issue its final indictment very soon, before a final decision by the investigating judges.
After a complaint from relatives of Samuel Paty, another investigation was opened in April by the Paris prosecutor's office for failure to assist a person in danger and failure to prevent a crime.
Their lawyer Me Virginie Le Roy had pointed out "faults (…) both on the side of National Education and on the side of the Ministry of the Interior".