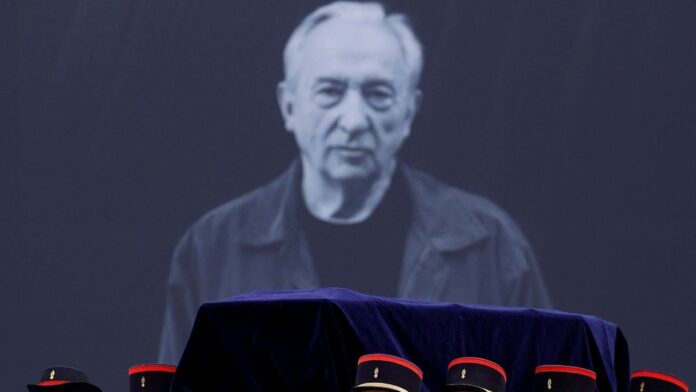 "Basically, Soulages had no age. Yes, Soulages is a classic who chose black as the editorial of modernity", launched the Head of State, who was accompanied by his wife Brigitte, during a refined national tribute, in the very place where the artist was celebrated during his lifetime, the Louvre.
x "On this day, the Nation wears the black of mourning but Pierre Soulages taught us to detect the light there. It is the universal and inalienable gift that he has given us. For that, thank you", added Emmanuel Macron in front of the coffin draped in midnight blue fabric, the courtyard adorned with two large portraits of the painter in black and white.
In the front row, his wife Colette, 101, who shared his life for 80 years and arrived, walking slowly, to applause, as well as his nephews and nieces had taken their places.
The Head of State was also accompanied by several members of the government, including Rima Abdul-Malak (Culture), Catherine Colonna (Foreign Affairs), Eric Dupond-Moretti (Justice) and Pap Ndiaye (Education). Several former Ministers of Culture, including Roselyne Bachelot, were also present.
For this tribute to the painter of a century, the elite of the art world was also gathered, including many museum directors, Laurence Des Cars (Louvre), Bernard Blistène (Centre Pompidou), Alfred Pacquement (Musée Soulages in Rodez), the permanent secretary of the Academy of Fine Arts, Laurent Petitgirard, the collector François Pinault or the architect Jean Nouvel.
– Open to the public –
Several hundred anonymous people also attended this ceremony open to the public and quite rare.
"I discovered Soulages during an exhibition at the Pompidou Center about ten years ago. The light and the strength of his paintings, exhibited in large spaces, immediately fascinated me. I wanted to be here today to pay tribute to this great artist," Irène Frati, a retired history-geo professor, told AFP.
"I would have loved to meet him to understand where his need to paint comes from," said Julie Merle, 23, who studies at the Ecole du Louvre and is interested in monochrome painting.
Before Pierre Soulages, the square courtyard of the Louvre had hosted the national tributes of Georges Braque in 1963, Le Corbusier in 1965 and André Malraux in 1976.
Born on December 24, 1919 in Rodez, the painter died on October 26.
Fascinated by prehistory from an early age, he had worked a lot with walnut stain before continuing with his large black flat areas of oil paint, which he scraped, scratched and modeled almost in the thickness of the paint.
"He overflowed his era because he had immediately decided to inhabit the history of painting, from its most distant origins to its most contemporary avant-garde", summed up Emmanuel Macron.
He had fallen into what he called "outrenoir" in 1979, when he was painting on a work entirely covered in thick black, streaked by chance.
"I like the authority of black, its gravity, its obviousness, its radicalism (…) Black has unsuspected possibilities", said the artist, who painted until the end of his life.
For more than 75 years, he traced his path, attracting the recognition of cultural institutions and the art market which made him one of the most highly rated French artists during his lifetime. One of his canvases sold for $20.2 million in November 2021.
He had already had the honor of a tribute to the Louvre in 2019, at the dawn of his 100th birthday. Until then, only Picasso and Chagall had had this privilege during their lifetime.
bur-elc-vl-pno/may/dch