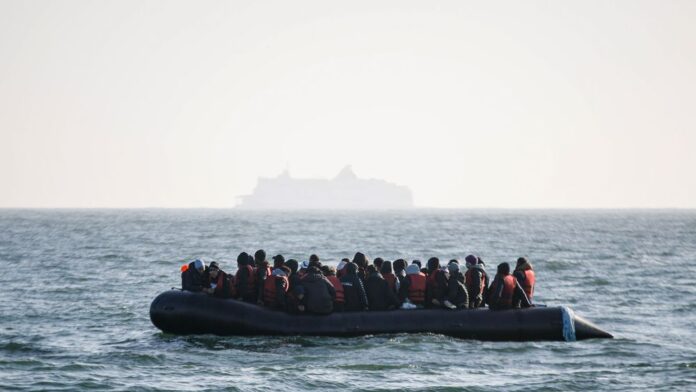 This agreement provides in particular for the British to pay 72.2 million euros in 2022-2023 to France which, in return, will increase its security forces by 40% (350 additional police and gendarmes including reservists) on its beaches, where migrants to the United Kingdom leave, according to the joint declaration of the two countries consulted by AFP.
No quantified target for boat interceptions, as the United Kingdom wanted according to the press across the Channel, appears in this document, signed Monday morning in Paris by the French Minister of the Interior Gérald Darmanin and his counterpart British Suella Braverman.
The deal comes a day after the UK Ministry of Defense announced that the number of migrants crossing the Channel since the start of the year had passed the record high of 40,000.
In this text, London and Paris first set themselves the objective of deploying "technological and human resources", including drones, on the French coast to better detect, monitor and intercept boats.
The two countries also want to collect and use information, in particular "from intercepted migrants", to better dismantle smuggling networks and deter crossings through joint work "as early as possible", in conjunction with the countries of origin. and transit of exiles.
To achieve these three objectives, a dozen actions aimed at "a more integrated and efficient approach" are listed.
For the first time, teams of observers will be deployed on both sides of the Channel in order to "strengthen common understanding" between the two countries, "improve the conduct of debriefings of migrants" and "increase exchanges of information".
The agreement also provides for the financing of "detection dogs" in the ports and the installation of surveillance cameras at the main border crossing points along the coast.
Reception centers for migrants must also be created in the south of France to dissuade exiles who take the Mediterranean from going back to Calais and "offer them safe alternatives".
The agreement was signed almost a year after the death of 27 migrants on November 24, 2021, when their boat sank off Calais, the worst tragedy recorded in the Channel.
More than 200 people have died or gone missing, at sea or on land, trying to reach England from the northern coast of France since 2014, according to the International Organization for Migration (IOM).