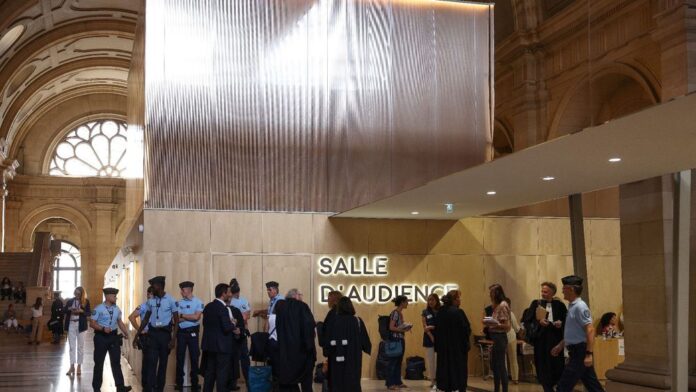 The tenth week of the trial in Paris is devoted to this 43-year-old Tunisian, who arrived in France a few months before the events and who is one of the three defendants prosecuted for terrorist criminal association.
In pre-trial detention since the summer of 2016, he faces 20 years of criminal imprisonment.
Chokri Chafroud, the fourth in a family of seven children, grew up in a village near Sousse (eastern Tunisia), where his father was a farmer. Described by his relatives as "shy, calm", he left school at 11 years old.
In a light gray sweater over a blue shirt, hands resting on the plexiglass of the cubicle, he diligently answers questions in Tunisian Arabic. Head bent a little, he often asks to repeat or clarify.
His "intellectual potential" was described by the psychologist expert as "in the lower average", with "a modest socio-cultural and educational level", recalls one of his lawyers, Florian François-Jacquemin.
An analysis that he considers incompatible with the description of his client by the investigators as an "influential mentor on the unstable personality" of the author of the attack, Mohamed Lahouaiej-Bouhlel, killed during the attack at the wheel of his truck.
The report drawn up in prison, in the radicalization evaluation unit (QER), conversely evokes "his sensitivity to influence, in particular from a person who would be part of a posture of saving help " and his "lack of discernment and hindsight on the encounters he could make".
The specialized educator who met him underlines that he "seems far from a jihadist posture" and that he has "never expressed criticism of the West and its values".
Not of this opinion, several civil party lawyers highlight several messages, often rude, exchanged between the accused and the perpetrator of the attack. If some show "a certain animosity" towards France, this feeling "does not emerge from all the elements" analyzed, judges an investigator from the anti-terrorism sub-directorate (Sdat) heard by videoconference.
– A simple "acquaintance" –
At the QER, Chokri Chafroud claims to have been ostracized by the other detainees because he listened to music and did not pray. He mentions in particular death threats from the French executive of the Islamic State group Tyler Vilus, sentenced in September 2021 on appeal to life imprisonment.
He says he came to Italy in 2006 to "discover another mentality" and "live the way the tourists lived" he met in Tunisia.
"Above all, I wanted to forget my pain", he adds, referring to an accident which strangely echoes the attack in Nice: when he was a teenager, one of his friends was crushed to death "in front of him ) by a truck".
In Italy, he works in two hotels, is regularized in 2010 but suddenly leaves for Tunisia in 2015. According to him, because his employer refuses him a raise. The latter evokes a change in behavior, with a new aggressiveness, increased alcohol consumption and isolation which had made him suspect depression.
He then arrived in Nice, in August 2015 or January 2016, depending on the version, where he worked in construction and was housed in a precarious manner.
For the prosecution, his "very close relationship" with Mohamed Lahouaiej-Bouhlel is evidenced by the photos found in the assailant's phone, as well as by the numerous messages they exchange, "most often at the initiative of Mohamed Lahouaiej-Bouhlel", recognizes however the investigator.
He was a simple "acquaintance", whom Chokri Chafroud frequented because he had promised to help him find accommodation, assures his defense.
His questioning is based in particular on a message sent by Mohamed Lahouaiej-Bouhlel to another accused on the evening of the attack, in which he calls for new weapons and affirms: "Chokri and his friends are ready for next month".
Several contacts of Chokri Chafroud were placed in police custody after the attack, then released.
"If Chokri's friends have nothing to do with what happened, what can we conclude for Chokri Chafroud?" Asked Me François-Jacquemin.
His questioning is due to continue until Thursday.