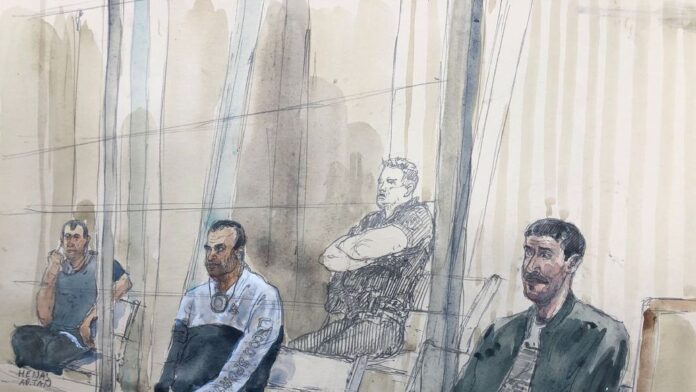 Chokri Chafroud assures that he has "nothing to do" with the murderous project of Mohamed Lahouaiej-Bouhlel, who killed 86 people on July 14, 2016 on the Promenade des Anglais at the wheel of a ram truck.
This is one of the only certainties of this 43-year-old Tunisian, dull complexion, receding hairline, in jeans and a black zipped vest, whose statements varied greatly during the investigation, according to him "out of fear".
"I have no idea", "I'm not in his head", "I don't remember": before the special assize court in Paris, he multiplies the evasive answers to questions about the behavior of the driver , the meaning of his messages or his date of arrival in France, in the summer of 2015 or early 2016.
Chokri Chafroud explains having sympathized with the author of the attack in a café in Nice, to meet compatriots and because he claimed to be able to help him find accommodation. "We were having a coffee, we were walking around. For me, he was a normal individual".
In pre-trial detention since the summer of 2016, he is one of the three accused prosecuted for terrorist criminal association and faces twenty years of imprisonment.
There is against him "the convergence of a certain number of elements which in themselves do not mean much but which, when put end to end, create a presumption of charges suggesting that (…) you could have knowledge" of the planned attack, summarizes the president of the court, Laurent Raviot.
For the prosecution, the telephone contacts between the two men and the photos found in Mohamed Lahouaiej-Bouhlel's phone sign a "very close proximity". She therefore considers him "fully aware" of his "recent adherence to the ideology of armed jihad".
"He did not show me" videos of abuse and "did not talk to me about things like this", retorts Chokri Chafroud.
He is also accused of having been "associated" with the rental of the heavy goods vehicle used in the attack, due to an SMS received on July 5 mentioning "Ada station".
The accused claims to have "never heard of" this rental agency. "It was one of all those messages that I didn't understand he was sending all the time," he sweeps.
Contrary to what he had spontaneously asserted in police custody, Chokri Chafroud indicates that he never took the steps requested by Mohamed Lahouaiej-Bouhlel to provide him with a weapon, in exchange for the cancellation of a debt. "I lied to save time".
The court then dwells on two text messages from the assailant on the day of the attack.
– "Impossible" – 
The first, sent to Chokri Chafroud around 8:30 p.m.: "I'm on the Prom, come and pass you… C for…159", making the prosecution suspect "an agreement (…) relating to a common project ".
"As if you were supposed to understand why he wants to see you…", analyzes the president.
"I don't know how to interpret it," maintains the accused.
The second message is sent to another accused, Ramzi Arefa, shortly before 10:30 p.m., a few minutes before the action.
"I wanted to tell you that the gun you gave me yesterday is very good," he begins, before inviting him to bring five more. "It's for Chokri and his friends. They're ready for next month."
"I am the first to find it strange that he gives so many operational details allowing the police to identify his accomplices", concedes Laurent Raviot. However, this message is not entirely "wacky", he adds, since Mohamed Lahouaiej-Bouhlel obtained a weapon two days earlier, through Ramzi Arefa.
"I don't know what he had in mind," repeats Chokri Chafroud.
"Could he have thought that you would be ready to engage in a terrorist project?" continues the president.
"Impossible. I'm not that type of person, I wouldn't do something like that," replies the accused, for once categorical.