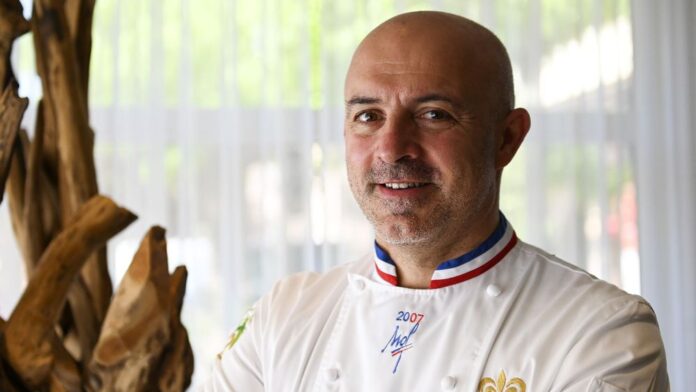 The egg at 64°C, with the yolk cooked at this temperature and hidden under the white of another egg like a ravioli, is the signature dish of Olivier Nasti, 2 Michelin stars, which he had declined in a version easier to carry during the health crisis. Its ability to adapt to the crisis has also earned it several gastronomic distinctions.
Deer tartare with caviar, rack of venison with cranberries, hare in leaf by leaf: a keen hunter, he also reinvents game-based dishes.
Originally from Belfort, he cut his teeth at Château Servin in Belfort, a starred restaurant, with chef Dominique Mathy.
Also a former student of Olivier Roellinger in Cancale, Olivier Nasti settled down in 2000 in the village of Kaysersberg.
Consecrated in 2007 as the best worker in France, he quickly immersed himself in Alsatian culture, which he constantly revisits with dishes such as his lightly smoked Rhine eel glazed with citrus fruits.
Also two-starred, Sébastien Vauxion is at the head of Sarkara, one of the few restaurants in the world where the entire meal is composed around desserts.
He told AFP in September that he built his restaurant on "no man's land".
Since then, he has seen "a lot of creations emerge" made on the same principle as his: "in the world of dessert, but not in sugar".
As a "starter-dessert", he offers an ice cream with mushrooms, coconut with candied lemon peel. Its "cheese-dessert" is accompanied by a shortbread with roasted flour and a sorbet with fresh herbs.
Like his mentor Pierre Gagnaire, Sébastien Vauxion has focused his work on fruits and vegetables.
Beetroot, artichoke, onion or tomato lend themselves to all delicacies combined with citrus fruits, seasonal fruits and herbs.