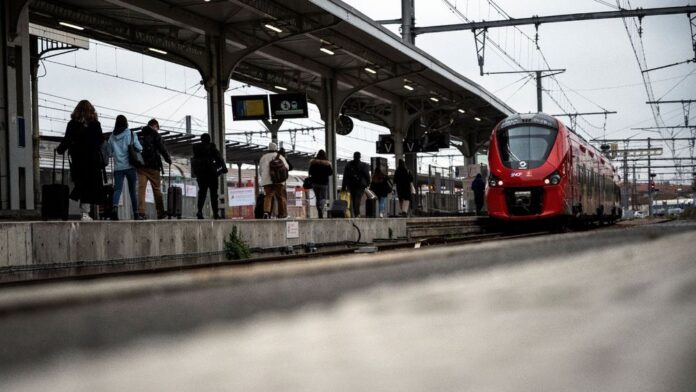 About 4 out of 10 TGVs and Intercités are running on Saturday and passengers have been warned of the cancellations for several days, SNCF told AFP.
Management announced Friday evening "new meetings" next week with trade unions and controllers – officially called captains – who are demanding better recognition.
"We will do our best to ensure that there is no strike at Christmas," promised Nicolas Limon, one of the six founding members of the National Collective ASCT (CNA), launched in September on Facebook outside of any union framework and which now has nearly 3,000 members.
In support of their movement, the unions filed a strike notice for the Christmas and New Year weekends in order to put pressure on the SNCF.
"I can't bring myself to have things written down," said Transport Minister Clément Beaune on Saturday, calling for "collective responsibility" to avoid end-of-year strikes.
"Let's work in the coming days to avoid this (…) I will do everything at my level", he added on the sidelines of the inauguration of a building at Roissy-Charles-de-Gaulle airport. .
A little further south, at the Marne-la-Vallée Chessy TGV station, which serves Disneyland in particular, the employees in charge of reception are trying to find solutions for a few rare passengers who walk through very empty corridors.
Flavien Arnault, a nurse, had to modify his Amsterdam-Poitiers route and got away with four hours more than expected. "It's a big waste of time and above all stress," says the 28-year-old, but "it's still a movement that I understand (…) I guess there's only when you do pissing people off that we're making things happen".
The almost 10,000 train supervisors of the SNCF, of which nearly 3,000 work on the TGV and Intercités, have an essential function in terms of traffic and passenger safety. Without them, trains cannot run.
"The management did not really see the anger that there was among the controllers and there, this weekend, it takes the measure", declared Saturday morning Fabien Villedieu, union representative SUD Rail, on RMC.
Beyond the questions of remuneration, there is, according to him, a question of "improving working conditions" and "consideration" with controllers who "feel mistreated".
According to him, the strike is followed at around 80%, a figure also mentioned by Nicolas Limon, with a gradual resumption envisaged on Monday.
On Friday evening, the management told AFP that "new meetings" were "planned for next week, as part of the dialogue initiated for weeks with the trade unions about the skippers".
For their part, the SUD Rail and CFDT unions mentioned a "reopening of negotiations", announcing in a press release a "specific round table on Thursday, December 8".
"This does not change anything to the weekend strike," however, told AFP Erik Meyer, federal secretary of SUD Rail.
The unions (Unsa-Ferroviaire, SUD-Rail, CFDT-Cheminots and FO-Cheminots) all supported the movement, with the exception of CGT-Cheminots.
"It's a strike that we didn't see coming, neither us nor the unions," SNCF CEO Jean-Pierre Farandou admitted Thursday during a conference organized by the magazine Challenges.
After this weekend of "temperature taking", Fabien Villedieu of SUD Rail hopes for concrete proposals during negotiations next week, saying "believe in social dialogue", especially as the holidays approach.
This mobilization also occurs before the start of the mandatory annual negotiations, which must begin on Wednesday at the level of the SNCF group. The CGT, SUD-Rail and CFDT called for a "unitary strike" that day.