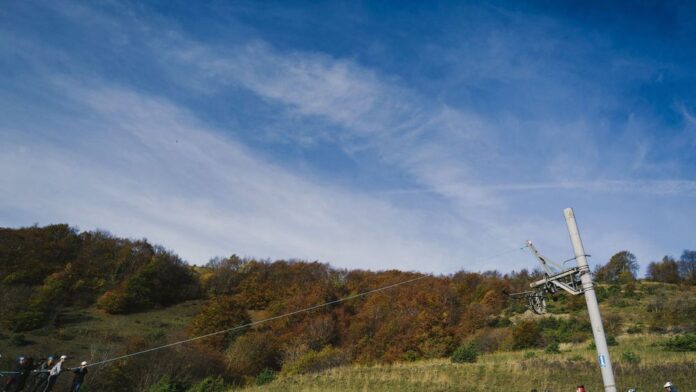 One by one, the eight pillars fixed on a mountainside at the gates of the magnificent Valgaudemar valley (Ecrins massif) are unbolted with a thermal grinder and fall heavily into the grassy slope.
They are cut up and then evacuated by the services of the town hall. In total, the approximately eight tons of steel will be recovered by a local scrap dealer.
Higher up, on another slope, a herd of sheep placidly observes this unusual scene. Carmen Grasmick, one of the fifteen volunteers from the Mountain Wilderness association who is leading the dismantling operation, is delighted: "Finally it's falling!".
On this almost tropical day in October, it is obvious that the small ski lift built in 1963 had no hope of recovery: the snow, once abundant, has become scarce there due to the southern exposure and the low altitude (1,550 meters at the highest). And the tastes of skiers and standards have also evolved.
The site, the 70th of this type for the association, including around twenty ski lifts, is part of its "Obsolete Installations" campaign, launched in 2001, and which aims to clean up mountain sites in consultation with local authorities. .
According to its census, at least 3,000 installations rust peacefully in the French mountains, including more than a hundred ski lifts sometimes literally forgotten.
There are also countless military, industrial, forestry and agricultural wastes (skidding cables, avalanche barriers, old fences). Some are dangerous, like WWII barbed wire that injures wild ungulates and grazing sheep.
Taking it all apart would be a daunting task. "We know very well that we will not be able to remove this on our own," explains Ms. Grasmick. Above all, the sites have a symbolic and educational value, including among decision-makers, she underlines.
Global warming and soaring energy costs should "further accelerate the movement", she hopes.
– "Greenwashing" –
The French branch of Mountain Wilderness, an NGO born in 1987 in Italy and which has since extended its activities to ten countries in Europe and Asia, has already moved the lines. In 2016, it obtained the passage of an amendment in the Mountain Law 2 making it compulsory to dismantle abandoned ski lifts.
The ambitious objective is now to make this provision retroactive and to extend it to all types of waste.
"Mountain Wilerness is not an association of mountain garbage collectors whose role is to go behind everyone with a garbage bag to pick up. Everyone is responsible", argues Nicolas Masson, administrator of the association.
Restoring the natural space after use "is the basics of sustainable development but unfortunately sometimes it does not go without saying", he notes.
However, he is delighted that the organization Domaines Skiables de France (DSF) is also getting started little by little: "there is certainly a little greenwashing there, but at least they are doing it".
As for the mid-mountain resorts, they should not "stubbornly persist" in the all-ski route, he recommends, pointing to the vast wild spaces of the Ecrins National Park.
"Here, people are happy to come because there is nothing, no artificial facilities and they have the feeling of rediscovering contact with nature".
The particularity of the Saint-Firmin site is that it is done at the initiative of the municipality. Initially, it was a process of securing the site, explains Didier Beauzon, municipal councilor in charge of technical issues.
"Then we asked ourselves the question, can we do it differently? We took one end of the cable and everything else came. We no longer have a climate that allows for lasting snow cover, we can't afford to put snow cannons here," he said.
But the valley is sometimes bathed in nostalgia and "there is always at least one inhabitant who makes them cry because that's where they took their first steps in skiing. It's systematic, in all the mountains", Carmen Grasmick nods.
But "there are places like here where they have the courage to turn the page. Because anyway, there is nothing else to do".