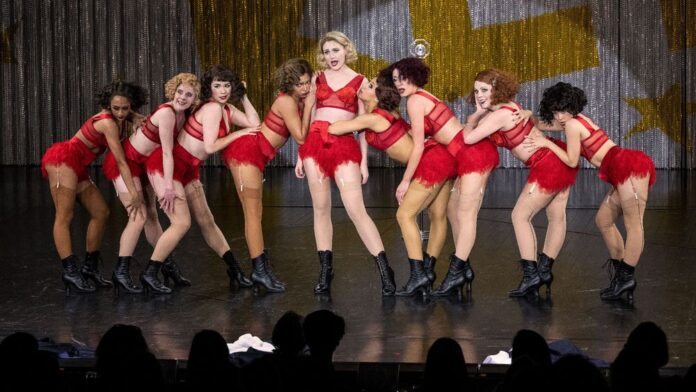 Loss-making for years, bought in December 2021 by the French hotel giant Accor from the collective catering group Sodexo, the panoramic room has not changed much but it will close in February for renovation work lasting several months.
In the meantime, she hopes to attract a new audience with a production of "Cabaret", premiered on Broadway in 1966 before inspiring the famous film with Liza Minnelli, and given for the first time in its original language in Paris, in English.
The plot is set in Berlin in the 1930s, in the midst of the rise of Nazism, and follows a young American writer who falls in love with a magazine leader at the Kit Kat Klub.
Political "musical theater" — songs that end with the Nazi salute, a manhandled Jewish character, dancing brown shirts, images of dictators and autocrats parading on a giant screen — but whose scenes are danced and sung at the Kit Kat Klub are reminiscent of the universe of the old Lido.
"Page number two (of the Lido) is opening," Jean-Luc Choplin, new president and artistic director, told AFP.
This former director of the Théâtre du Châtelet, where he was the architect of the revival of the musical, assured that he wanted to make it "again a place of spectacle for Parisians".
"Parisians no longer came to the Lido so it was a question of reconciling with this Parisian and French public", he added, referring to the fact that the former cabaret, with its "Bluebell girls", dancers dressed in feathers, attracted mainly tourists.
For him, the choice of "Cabaret" was essential: "it needed a strong work. (…) It's Berlin in the 1930s, a city with 300 cabarets, the cultural capital of Europe which is going to collapsing under the rise of Nazism… It raises questions about our time".
At the general, Wednesday, Astrid Fily, 48-year-old spectator, seemed conquered.
The Lido, "it was girls dressed short with feathers (…) and that's not really my thing," she says. "On the other hand, I like the theater and especially musicals. And it's rare to see them in Paris in their original version".