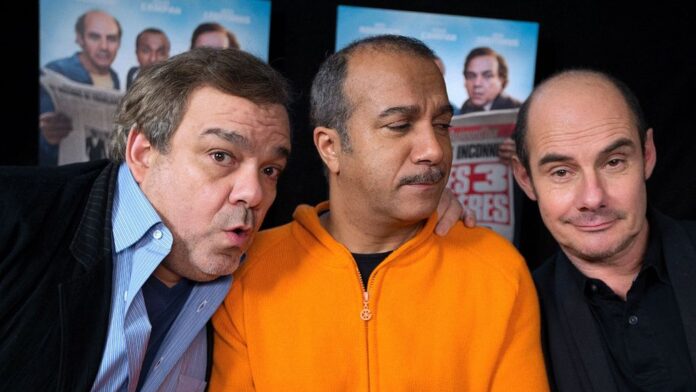 Seeing these sketches played by others "is very disturbing: it's very pleasant and, at the same time, you feel dispossessed", confided one of the three comedians, Didier Bourdon, during the presentation of the program at the press in October.
"Tous Inconnus" (9:10 p.m.) is a two-hour fiction in which the Unknowns play their own role, but in a parallel reality where everyone has forgotten them.
Common thread of this fiction, the trio interprets a series of sketches which introduce 19 of the 180 sketches created in its hit show "La télé des Inconnus". It was broadcast from 1990 to 1993 (seven issues in total) on TF1's rival channel, Antenne 2, which became France 2.
In these sketches, their characters are taken up by around sixty personalities, including the actors François Berléand, Isabelle Nanty or Patrick Chesnais, the YouTubers McFly and Carlito, the rappers JoeyStarr and Soprano, the singer Helena Noguerra or the footballer Adil Rami.
"I'm a bit of an old fossil, there were names I didn't know," laughed another member of the trio, Bernard Campan (64).
"Some people I had on the phone told me that they were very afraid" of rubbing shoulders with these characters, who have passed into popular culture, assured the third Unknown, Pascal Légitimus (63, like Bourdon).
– "Politically correct" –
In recent years, a new generation has indeed experienced these sketches via YouTube. Légitimus even said that his teenage daughter was unaware that he had been part of such a famous group of comedians, and that it was his girlfriends who had taught him.
The sketches were shot identically (same sets, costumes, dialogues). Among them, "It's you that I love you", "Sects", "Rap-all" or "Turn households".
In fiction, the trio plays with the codes of the time and "political correctness", which have changed in 30 years, according to Bourdon: "Today, it might be difficult" to do certain sketches, such as "Biouman" or "The Nurses", in which they were disguised as Japanese and West Indians.
"It rubbed our brains a bit: could we write black today" in a sketch?, he wonders.
"I have the right to say it!" Interrupts him with a smile Légitimus, of Guadeloupe origin.
"It's silly, it's the opposite of humor," continues Bourdon. "We were popular from Sarcelles to Neuilly. Evil is in the eye of the beholder".
Dormant, the trio does not plan to return to television with new sketches.
On the other hand, Bourdon and Légitimus would like to go back on stage, but not Campan. "It would be too much of a headache; at best it seems It's as good [as before], but this job we do it to do things better", he justified himself.
If "Tous Inconnus" is a success, a second issue could follow, with other sketches. In addition, TF1 will broadcast a documentary on the trio, on a date still…unknown.