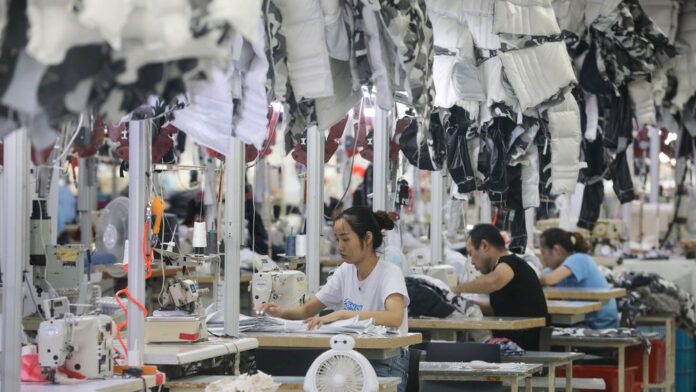 Available on most food packaging, the nutri-score, which makes it possible to assess the nutritional content of food, could soon see a little brother arrive, who would operate in the textile field. In a column published this Thursday, November 24 on the Ouest-France site, the Secretary of State for Ecology, Bérangère Couillard, and the Minister for Ecological Transition and Territorial Cohesion, Christophe Béchu, announced the implementation, by the end of 2023, of an eco-score, which will allow the French "to have clear and simple information on the impact on the environment of the clothes offered for sale".
Thirteen major French brands, including Celio, Decathlon, Jules and Lacoste, have made a commitment to the government to set up this eco-score, which will offer a rating between A and E, as is currently the case for the nutri score. It remains to be seen how this scale will be drawn up. A dozen concepts have been sent to the government, which is studying them. Most are intended to be as comprehensive as possible, encompassing all sources of pollution: the amount of water needed to manufacture the garment, the number of kilograms of CO2 released into the atmosphere, the toxicity of the product, its effect on biodiversity … Some projects, such as that of Glimpact, establish their score based on fifteen criteria.
The announcement of the creation of this eco-score reveals an unknown truth: the textile sector is one of the biggest pollutants on the planet. According to the French Environment and Energy Management Agency, the weather is even worse than international flights and maritime traffic combined. In terms of land use, it is the second most polluting, and in terms of quantity of water used, the third. For example, making a coat releases 85.8 kilograms of CO2 into the atmosphere, while jeans require pumping 9,000 liters of water. In addition, 95% of clothes purchased in France are imported from abroad, particularly from Asia. By informing consumers, this scale aims to change their buying habits, which are rather compulsive in this area. On average, a French person buys no less than 80 new clothes per year.